i'm flying out the door for a busy day, which has become my life story these days, but before i go i have a couple of fun and important things to share with you.
Amy from
Paperlife
has graciously offered a free seat in the following online class to one of my readers!
please leave a comment if you are interested & I will announce the winner early next week.
Here is a description in Amy's words...
"This Online Class is a complete and detailed "how to" on what I have come to call, Life Journals, which is my take on art journaling with a Paperlife flair. Life Journals and this class has all the artsy, technique, and design filled treasures that you know and admire in art journaling and mixed media but, they include your life. What I mean by that is in a life journal you get a little scrapbooking, photography, journaling, mixed media, and more all in one place.
This is a self-paced class, which also means you will have access to it for as long as the Paperlife and/or its blog host platform is in existence, so hopefully God-willing, forever. I am doing it this way because, I want the ability to update and change this initial core class as, life and products and techniques change and/or improve. The Classroom is a private blog you will be given access to and loaded, I mean LOADED with videos of me teaching you how to life journal, as well as, PDF's and other materials. I want this to be a resource for you to have access to at anytime during your life journaling journey. Everyone learns in their own way, and life is busy, so I want it to be something you can set aside a weekend and complete all at once or, do slowly over the course of time, or even completely out of order focusing on what you are interested in at the moment. I have also packed this with tons of information, ideas, techniques (think backgrounds, collaging, fabrics, inks, etc), and resources that I want you to be able to refer back to when needed.
My hope is this class will become a "go to" tool in your very own Paperlife. It is also part of my plan to add future classes for you to purchase through the paperlife, that will focus on more advanced and specific art journaling topics and techniques that build on this core class. You see this is more than a hobby to me, as you will discover during this class. Art journaling, scrapbooking, and creating is a lifestyle for me that I have come to realize resides in all aspects of my own little world. I want to share that with you, how I live it, and how you can have it too. So I thought, what better way to begin this paperlife learning journey, than in and by introducing you to my beloved LIFE JOURNALS.
Early class registration will begin April 10th with an amazing early bird price of $30!! I promise this is worth so much more than that but, I want to make this initial core course and the gift of Life Journaling accessible to everyone. The classroom itself will go live on May 15th and the price after that will be $40. Which is still an amazing deal (btw) but, don't wait and miss that $10 discount, because I mean $10 that can arm you with a ton of journaling supplies. I cannot wait to share this piece of me with you and have you enjoying this amazing journey that is LIFE JOURNALING with me."
Direct link to the class information and purchase page can be found
here
.
Video embed code: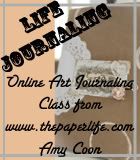 I would also like to take a moment and share a wonderful way you can help and two more giveaways...
please visit both
ashley
&
darby
to find out more information about this fantastic ministry opportunity. both of these precious friends of mine are hosting a little incentive for your participation!
thank ya'll!!